Hotel Info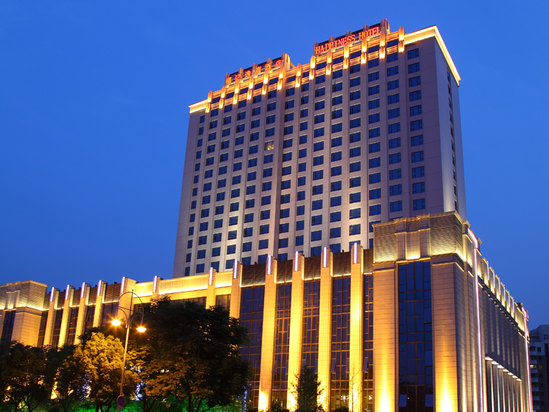 Happiness Hotel Changzhou
is a modern business hotel invested by Changzhou xinfuji hotel catering Co., Ltd. The hotel is equipped with advanced and perfect facilities, provides considerate and meticulous service, adheres to the concept of 'family', and is committed to providing all-round services for business guests, and building a first-class hotel brand in Changzhou.
Yigao seafood cafeteria is located on the first floor of the hotel. It has a comfortable and elegant dining environment and a private space to enjoy delicious food. It has more than 300 seats. It is full of fresh seafood and unique. Here, you can feel the underwater world with the tip of your tongue, meet your taste buds and give you a perfect seafood self-service experience.
Fuji's Chinese cuisine is famous in Changzhou. The national restaurant in the two and third floors is composed of 12 VIP boxes, which is the essence of Fuji's delicacy, creating a new concept of Cantonese cuisine and Huaiyang cuisine.
Located in 3F of the hotel, Fulinmen state banquet hall provides you with 1000 square meters of banquet space. With a height of 9 meters, the hall is magnificent and magnificent, and can hold a banquet for about 550 people. ? Fashionable decoration style, ?? Equipped with advanced Tanglong Taiji audio-visual equipment and 12 meters wide and 5 meters high LED display, we provide meticulous banquet service to create a perfect audio-visual feast for you. And with a 200 square meter Arc de Triomphe banquet hall, can accommodate 120 people banquet. Located in 4f of the hotel, Wanli multi-function hall, with an area of 1000 square meters, has no column and transparent, 10 meters wide and 2.5 meters high LED display screen, giving you perfect visual enjoyment. In addition, there are 9 multi-function halls with different specifications, flexible combination and first-class Tanglong Taiji audio-visual equipment, which are suitable for holding various types of meetings, social and business activities.
The recreation and Sports Center provides you with new aerobic exercise equipment, constant temperature indoor swimming pool and exercise room. There is also a VIP chess and card room to provide you with a full range of leisure services.
Breakfast price
: CNY98($15.1) / person
Breakfast time
: 06:00-09:30
Breakfast type
: Buffet (Western, Chinese, Japanese)